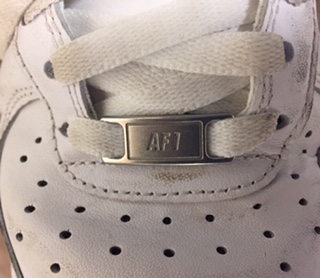 Ava Grubb
Shoes have always been considered a staple in fashion, with them being considered by many the final touch to an outfit, but in the past decade these trends have started to change with old styles making comebacks and new trends taking the stage. Some of these trends are going to be taken into the new decade, but a few may be left behind. 
At the beginning of the decade, shoes like Uggs, Crocs and Converse were extremely popular, with comfort being a rationale for buyers. Now, with fashion trends changing popular shoe brands include Vans, Fila and Doc Martens.
Nike has stayed popular throughout the decade but the shoes have become more popular to wear casually. 
Comfortable, but still trendy shoes such as Nike Air Force 1s and Fila MBs have become popular with teenagers and young adults, being practical sneakers but also still adding flair to an outfit.
Senior Annika Swientek said her typical shoe attire consists of fashionable sneakers.
¨I would prefer to make my shoes comfortable and fashionable if possible," Swientek said ¨I like to wear nice sneakers.¨
Certain trends, like high tops, chunky sneakers, and platform shoes have stayed popular throughout the decade, but others, such as fuzzy boots, strappy sandals, and wedge sneakers have been on and off with their popularity throughout the decade. 
 ̈My favorite shoe trend is probably gladiator sandals because they go with every outfit and I think they are comfortable," senior Maddie Burns said.