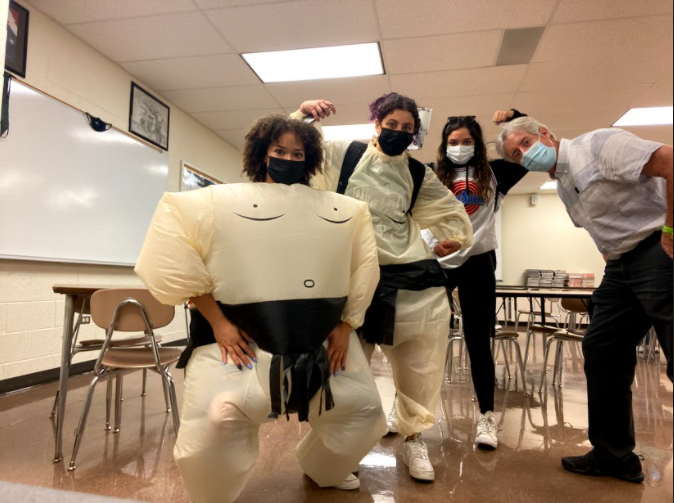 Seniors sweep sports day skits
Sports day for spirit week had another exciting round of skits being submitted by all classes. This year with virtual submissions, students have gotten creative with their ideas for skits. Sports day skits ended with the seniors taking first, fourth, and fifth, the juniors taking second, and the sophomores taking home third.
Senior Alec Yaagoub was able to secure a fourth place spot with his "Sick Tricks Vol. 1" skit. He got creative and performed a basketball skit where no matter how he shot the ball, it would always make it into the basket. What made this skit so funny was how Yaagoub used the same clip of the ball going in the hoop each time he threw the ball.
The juniors also submitted a skit which got them 20 spirit points for second place. The football players for the junior class got together and created the "Junior bowl shuffle" a spin off of the Super Bowl Shuffle. Their off beat rhythm and bad singing skills won the hearts of the judges and gave all the students a good laugh.
However with the many skits that were submitted, the senior class came out on top yet again with the "Taking the L" skit performed by Juliana Tomecki. This skit was a comedy as Tomecki played the role of a typical high school jock who got denied a date to the football game. This skit had everyone laughing as Tomecki played it cool and kept throwing the football around with co-star football jock Andra Ziba.
Tomecki said, "The final product of taking the L was actually not the original plan. The girl was supposed to accept Chad's offer but instead she said no. Therefore, Chad's reaction was 100% genuine, I managed to stay in character by saying 'Alright!' 'Dubs!' The next morning I was in complete shock to see my skit had placed first and was proud to take a W for my class!"