How to make applying to colleges a breeze
With the first semester of senior year already flying by, applying to college is currently a fear of many seniors. Standardized test scores, letters of recommendation, and personal essays are only a few of the numerous requirements found on applications. Not everyone always gets a chance to sit down with their guidance counselor to talk about some guidelines and expectations for the application process, so here are a few tips and tricks that could potentially make applying a little bit easier.
"Don't rush and don't wait until the last minute! Colleges are specific about what they want, so take the time to follow instructions and to make the process a little less overwhelming" said guidance counselor Mrs. Denise Dalton.
What if you've already waited until the last minute and you realize that the early action deadline is Nov. 1? Not to worry. Mrs. Dalton also explained that even though you do have a better chance of getting into higher selective schools through early action, many schools have an application deadline of Jan. 15 and others, all the way until sometime in spring!
You need to keep in mind, however, that there's a big decision between early action and early decision. Early action is just a matter of applying to schools early, but early decision is a legitimate binding contract between the student and the school they decide to commit to. With early decision, you're able to apply to a variety of schools, but once you get accepted into your top-choice school, you sign a contract saying you're set on going there. This means you need to withdraw all the other applications you sent in to other schools, though.
"The only way you can get out of an early decision binding contract is if you can't afford the tuition, but even now, schools are beginning to heighten the restrictions on that," said guidance counselor Mrs. Andrea Heinz. Because of this, you need to be aware of the price of tuition and fees before you decide to commit.
Now, what about what's on the application itself? All applications will request standardized test score information, so Mrs. Heinz recommends sending test scores as early as you can because it can take up to 1-2 weeks to electronically send transcripts. This applies to any schools that don't allow you to self-report your grades.
Heinz also said, "Don't wait until the last minute to ask for letters of recommendation. Asking in person is also a lot more effective than asking via email."
Letters of recommendation aren't required on applications, but many schools offer anywhere from one to a few letters to be submitted. It's definitely a good idea to ask teachers that you have a good relationship with to write you a letter of recommendation–especially if it's in a subject that relates to the major you're going into. There are some schools, however, that don't even let you send in letters of recommendation–like the University of Illinois at Urbana-Champaign. It's important that you realize early on that you won't need to send in any letters of recommendation for schools like these so you don't waste your time asking.
Aside from these specific requirements, many students are interested in getting awarded scholarships to aid some of the burden of college expenses. It's important to remember that scholarships can be awarded through both the schools you're applying to as well as outside organizations and companies.
"Colleges offer incoming freshmen scholarships that'll go towards tuition, but those sometimes have earlier deadlines than the actual application deadline which is usually around January or February," said Heinz.
You can find scholarships for virtually anything, but it's on you to do your research. If you aren't too confident in your standardized test scores, don't stress out! There are tons of scholarships out there that aren't based on your test scores at all, but on other factors like your major and interests. Once you're awarded a scholarship–which is usually announced in the spring–it can be applied to your general fees such as tuition, room and board, books, and meal plan that'll be managed by the school itself.  
About the Writer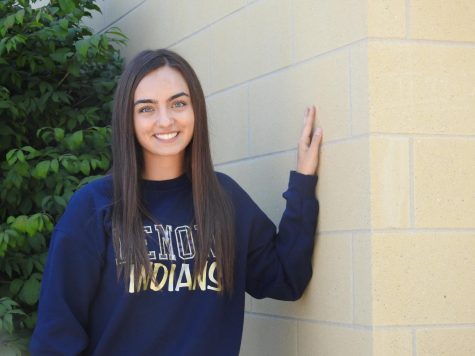 Natalie Palarz, Editor-in-chief
When she's not struggling to run three miles at a cross country race or working hard at a law office, Natalie Palarz can be found trying to get as involved...