School spirit doesn't stop for COVID-19!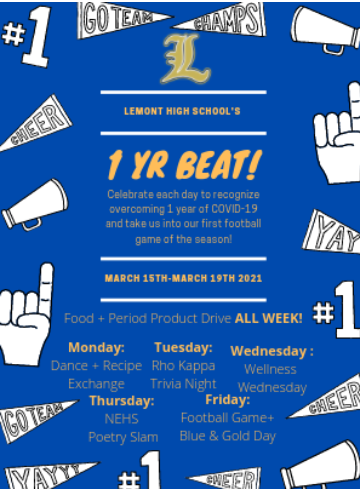 Spirit week has always been an exciting week for all students and staff— buying spirit links, dressing up, competing in games, assemblies, etc. However, with the new virtual setting, it seemed as though raising school spirit was impossible, but LHS is rising to the occasion!
To celebrate the first game of the football season, the week will take place from March 15-March 19, 2021. This week was not only chosen to commemorate the start of the football season, but also to encourage students to come together as we reach the one-year anniversary of the rise of COVID-19 in the United States.
Throughout the entire week, there will be a food drive sponsored by the Student Council and a Period Product drive sponsored by NHS and [email protected] Every donation counts, so make sure to donate if you're able!
Each day of the week will have something different for students to participate in after classes. Monday will be a day where students can learn about how to raise school spirit via social media and learn how to make recipes from LHS' own home economics students! These recipes and social media submissions will be submitted by that Friday to show during halftime of the football game!
Tuesday will be Rho Kappa's Trivia Night. The night will be filled with fun facts that transport participants through time! Not only will teams be able to answer questions together, but teams will also be able to watch a captivating movie with interesting characters to bring some energy into the night!
Wednesday will be "Wellness Wednesday"! This night will have different activities for students to do at home to improve their physical and mental health during these difficult times. Now, more than ever, health is extremely important! 
Thursday is the National English Honors Society's annual Poetry Slam! The Poetry Slam is a calm atmosphere for students to chill and watch someone wonderful poetry and prose pieces from LHS students. Participants will also have the opportunity to win a raffle basket that will be delivered to their home. 
Friday is a Blue & Gold day! Show your school spirit by wearing your LHS merch! The football game will be streamed for anyone to watch and show support for the LHS football team. Friday will be a night full of support and spirit!
Overall, it looks like there is a lot to look forward to before spring break! This week will be a lot of fun for all LHS students, so make sure to be there!
About the Contributor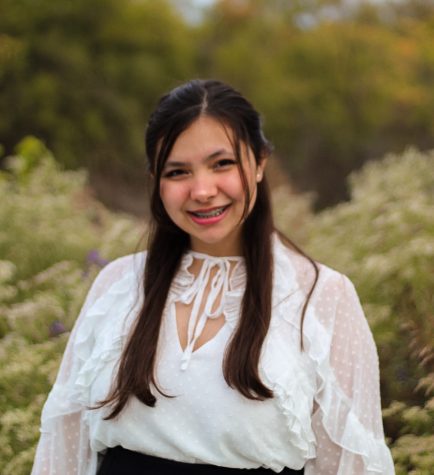 Makenzie Michaelson, Staff Writer
Makenzie Michaelson is a senior at Lemont High School and a first-year Tom-Tom member. Makenzie's friends would describe her as kind, hardworking, and...