Singing her way up to the top
A compilation of the top ten Lana Del Rey songs
Hang on for a minute...we're trying to find some more stories you might like.
Elizabeth Woolridge Grant, better known as Lana Del Rey, is a pop singer who first got widely recognized when the video for her song "Video Games" was released in 2011. Now, she has many great songs, but only 10 of them will be recognized in this list. So, without further ado, here are Lana Del Rey's top 10 songs (in no particular order):
"Big Eyes"

This song came out late Dec. 2014, specifically for the movie "Big Eyes" that starred Amy Adams. The song starts off slow with piano chords playing, then gradually ascends into a dreamy, yet melancholy, symphony of instruments accompanied with Del Rey's smooth voice.

Notable Lyrics:

To my surprise, my love's demise was his own greed and lullabies

"Without You"

This one starts with slow piano chords as well and gets faster with drums in the background of the chorus. In the lyrics, she relates love and fame together in a beautiful way, saying how she would give it all up just for the man she loves.

Notable Lyrics: All

my dreams and all the lights mean nothing if I can't have you.

"This is What Makes us Girls"

Personally, this is my favorite song from Del Rey. It tells the story of girls being invested in love. She retells over and over how girls yearn for love and would do anything for it. This is also a rather personal song for Del Rey, for she based the lyrics off of her rough teenage years.

Notable Lyrics:

We don't look for heaven and we put our love first, somethin' that we'd die for it's a curse

"Pawn Shop Blues"

This is another slow song (a common theme of Del Rey's) starting with guitar chords. She tells another story, seemingly of personal experiences, about a  breakup and letting go. This is such a good song because it's personal to Del Rey and because the story is relatable to many. Letting go can be a very hard thing for people to do, and through this song, Del Rey gives motivation to those who are trying to get over a breakup. If she can do it, then so can others.

Notable Lyrics:

I let the best man I knew go, cause it's nice to love and be loved, but it's better to know all you can know

"Love"

Del Rey's newest song, released Feb. 18, 2017, is the lead single from her upcoming fifth album. This one is very different from her others, not just lyric-wise, but also in the music video. Although she has plenty of happy songs, they don't usually stand out as much as the sadder ones. But, this song, in particular, is definitely going to draw attention. If the dreaminess of it doesn't entrance listeners, then the video will. This is one of the few videos where Del Rey is actually smiling and being playful while looking absolutely stunning.

Notable Lyrics: It doesn't matter if I'm not enough, for the future or the things to come, cause I'm young and in love, I'm young and in love

"Radio"

This one is

yet another song from Del Rey that's about her personal experiences trying to have a breakthrough in her music career. The personal touches in her songs make them that much better. She has true emotion behind what she's saying and as a listener, one can tell she really loves what she does. The lyrics in this song hint at the troubles she faced before she became famous and before people (possibly the music industry) really wanted to listen and give her a chance. But, now that she's playing on the "radio," a lot of important people are probably reaching out to work with her.

Notable Lyrics:  Baby love me cause I'm playing on the radio, how do you like me now?

"Old Money"

This ballad is another slow song, but it's absolutely beautiful with the piano being a prominent instrument in the background. Again, the way Del Rey sings this really conveys emotions, tugging at everyone's the heartstrings. It seems to be about an older woman who was part of the old Hollywood glamor era, reminiscing about her past fame and love. She almost appears to be worrying about if her lover will still love her when her fame is gone and she's no longer

young and beautiful

. This song seems to tie in with Del Rey's other song, "Young and Beautiful," in the fact that the lyrics bring up youth and fame frequently.

Notable Lyrics: Will you still love me when I shine, from words but not from beauty?

"Young and Beautiful"

This is one of Del Rey's most popular songs, particularly reaching its peak when Baz Luhrmann's "The Great Gatsby" was released in 2013, which featured this tune. It was the leading single for the movie and made it onto different top charts all over the world. Del Rey's hauntingly soft voice gives the song a somber, yet romantic tone. The lyrics speak of love and if it will be everlasting. The lyrics go really well with "The Great Gatsby;" mirroring the love between Gatsby and Daisy. Their love was supposed to be written in the stars and unbreakable, both of them hoping it would be everlasting.

Notable Lyrics: Will you still love me when I'm no longer young and beautiful? Will you still love me, when I've got nothing but my aching soul?

"Carmen"

Upon doing research, it was found that this song is also another personal one for Del Rey that is based upon her teenage years. She notoriously had a drinking problem at a young age and ended up living on the streets after running away from boarding school. In the lyrics, Del Rey acknowledges how foolish her actions were, tricking herself into believing that her life was fine when really, it was a mess. Once again, her personal touches make this song that much better. This song also has slow piano chords throughout it.

Notable Lyrics:

You don't want to be like me; don't wanna see all the things I've seen. I'm dying, I'm dying. She says, "you don't want to get this way famous and dumb at an early age." Lying, I'm lying

"Ride"

The video is

what makes this song so good. It really gives you a visual for what she's singing about and unfolds like a mini-movie that keeps the watcher in a trance. But, the best parts of the video are the beginning and the end. She starts the video with her talking about her personality and the story of who she is and how she became what she is today. The softness of her voice compliments the music so well and her occasional voice cracks really fill her words with raw emotion. The end of the video has her speaking again, but this time she goes on about her life on the road and her personal values. She also reaches out to her listeners and gives them questions to think about. She offers inspiration to make changes in their life as they see fit, changes that will make them happy.

Notable Lyrics: And my motto is the same as ever: "I believe in the kindness of strangers. And when I'm at war with myself I ride, I just ride."

About the Writer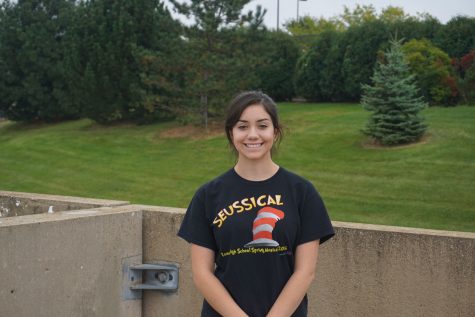 Baillie Costigan, Copy Editor
Baillie Costigan is a senior that is a Capricorn, Slytherin, and cat lover. On days when she is not in her natural habitat - alone in her room binge-watching...