Humanz brings up together
Hang on for a minute...we're trying to find some more stories you might like.
On April 28, the legendary British band Gorillaz released their first album since 2010 named Humanz. The band have been on hiatus since 2010 and having their music back is truly amazing. How does their newest album fair among its predecessors? Not very good.
Unfortunately, a majority of the songs range from decent to boring. Only a few of the tracks stand out, such as "Ascension," "We Got the Power," and "Let Me Out." The album did include two songs that deserve to be some of the group's best: "The Apprentice" and "Saturnz Barz." This album also has much star power attached to it, such as Reggae superstar Popcaan, rising-rapper D.R.A.M, and even actor Steve Martin. However, even this wasn't the best part.
The journey of Humanz was first unveiled to the public on the eve of the presidential election when the group dropped their first single in 7 years called "Hallelujah Money," and it wasn't very good. The song suffered from intense political views that turned some older fans away from the music. In mid-March, Gorillaz released "Saturnz Barz," which was the calling back for old fans. "Saturnz Barz" broke many billboard top 10's in Europe and was cemented as one of the Gorillaz's best, up there with such hits as "Feel Good Inc" and "Melancholy Hill."
Gorillaz released three songs after "Saturnz Barz," however those didn't fair as well, with the only semi decent one being "Andromeda." Things weren't looking too good for the longest time, and the songs they were pumping out satisfied no one, especially with what might be considered one Gorillaz's sloppiest songs, "Charger." Gorillaz was falling in a spiral, until on April 24 when the album's bonus track "The Apprentice" was released, and Gorillaz was saved. "The Apprentice" exceeded every expectation with a slow beat and a change in genre almost every single cycle from soul to funk, to rap, and a slow mellow beat only equal to that of classic mMotown
How does Humanz rank amongst the other albums of Gorillaz? Humanz is mediocre, with some good songs but mostly just feels like a disorganized mess, losing its way throughout a good chunk of the album until the end where it regains traction. The Gorillaz are far from the days of their greatest albums such as Plastic Beach and Demon Days, but there is heavy potential for them to regain the footing they've lost.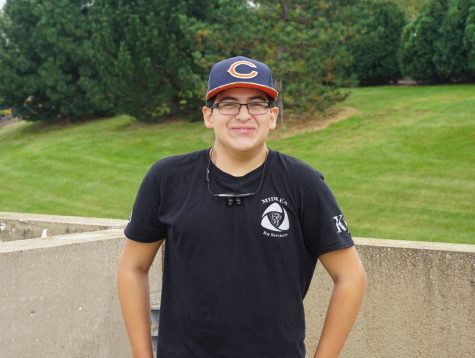 Logan Coronado, Staff Writer
Logan Coronado is a senior who is involved in the Drama Club and Theatre Tech. He is basically the equivalent of a 2-bit comic; he struggles to make a...