Cooling off at the Courtyard Concert
Hang on for a minute...we're trying to find some more stories you might like.
The National Honor Society-sponsored Courtyard Concert that took place Sept. 26 proved to be a relaxing evening featuring an eclectic mix of singers and instrumentalists. Starting at 5 p.m. and ending at about 7:45 p.m. (a forecast of rain caused the concert to end 15 minutes early) in the evening, performers consisted of those who expressed interest after NHS sponsor Mr. Dron sent out a school-wide email looking for those who wanted a chance to perform.
"I was inspired by Twenty One Pilots, because if they could do it, I could do it," said Junior Rochelle Shroyer, after singing a ukulele cover of "Tear In My Heart." In addition to the music, the combination of the pleasant weather, the baked goods for sale and an ice cream bar (manned by NHS members) attracted an audience of mainly NHS members, but some parents and faculty members were also present.
While performers at the concert included mostly vocalists, there were also some pieces performed only with instruments. After performing a song on the tuba with Senior Isabelle Blanco on trumpet, Senior Nathaniel Blanco said, "I wanted to add variety to the Courtyard Concert- there are a lot of singers, but not many instrumentalists."
Some performers at the concert included singer-songwriter Senior Grace Smiles, Senior Zach McFarland, Sophomore Reema Dhawan, English teacher Mr. Lazzari, Social Studies teacher Mr. Priestley, Music teacher Ms. Cesaroni and the Jazz Band. In between performances, jokes or humorous stories were provided by the concert's hosts, Seniors Charles Balisalisa and Saher Rashid.
Students interested in photography or part of Yearbook were among the audience, snapping pictures of those performing onstage. Members of "Spark" could also be seen enjoying the concert and handing out glow sticks to audience members as the night progressed.
"We had fun, they [the performers] had fun," said audience member Sophomore Alicen Barowsky, as the last half hour of the concert was open to anyone interested in singing karaoke.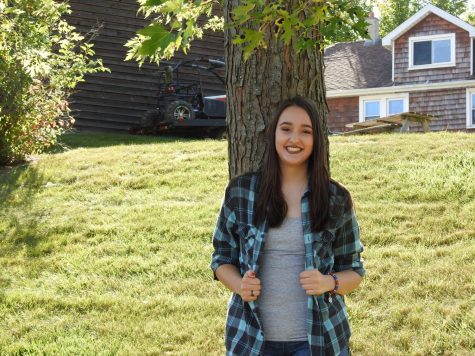 Emily Krivograd, Web-Editor
Emily Krivograd is a senior who is involved in way too many school clubs, but hasn't gone crazy (yet). When she isn't managing the NEHS "Museletter"...