Prepping, stressing for SAT testing
Juniors gear up before they take the SAT
Juniors are preparing (and stressing) as they gear up to take the SAT test next Tuesday, April 10. The class of 2019 will spend the entirety of the shortened day taking the test until a 1 p.m. dismissal.
"I like to believe that scores from previous SAT's indicate that what we do in class in terms of just our general curriculum is enough to prepare students to do well and meet the benchmarks," said Mrs. Tina Malak, Director of Curriculum, Assessment and Instruction. "We don't halt curriculum and do test prep; there are lots of schools that do."
Last Oct., juniors took the PSAT/NMSQT- a test given to prepare students for what to expect on the actual SAT.
Junior Rizelle Shroyer said, "I'll probably do a lot better [this time] since I learned more things."
Juniors are advised to continue studying if they have been preparing for the SAT already. Online resources with practice tests available for students include the College Board and Khan Academy websites. Test-takers were also given SAT student guide practice books showing what the content of the test will be like.
Junior Abby Bendle said, "I have an SAT prep book from Barnes & Noble."
Additionally, students could participate in SAT prep classes that started in Jan. led by Excel Edge, a test preparation service. There are about 90 students enrolled in the classes.
The state of Illinois requires all schools to give the SAT. Originally, students would be taking the ACT during this time, but the state switched to the SAT suite two years ago. However, all 4-year colleges and universities in the state accept both ACT and SAT scores.
"The college I'm going to takes ACT-and I already did well on the ACT-as well as SAT scores," said junior Carly Holt. "I'm more focused on the ACT than the SAT. If it was something I'd signed up and paid for, I'd be studying."
Since the state has only recently focused on SAT-based testing, only the students in the sophomore class and below have been exposed exclusively to SAT test prep, rather than ACT, throughout their time at LHS.
Before taking the test, students can research what ranges of SAT scores certain colleges look for and aim for their desired score.
"It is helpful to know-if you know-where you want to go and what's in that band of scores," said Malak.
After taking the SAT, juniors can expect to receive their scores in early May by checking the College Board website. Students may take the ACT on their own and compare their ACT score to their SAT score. For those who want to take the SAT again, students can individually register and pay to take the SAT again on a Saturday testing date.
About the Contributor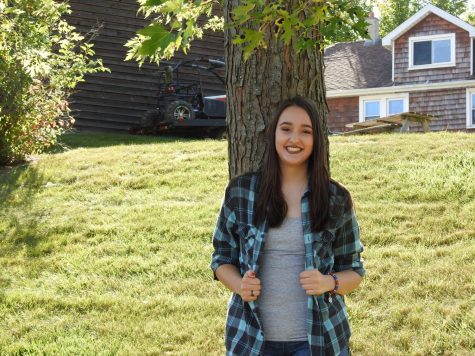 Emily Krivograd, Web-Editor
Emily Krivograd is a senior who is involved in way too many school clubs, but hasn't gone crazy (yet). When she isn't managing the NEHS "Museletter"...