Boys' soccer kicks it into gear
Boys' varsity soccer team advances to semi-sectionals after placing first in regional conference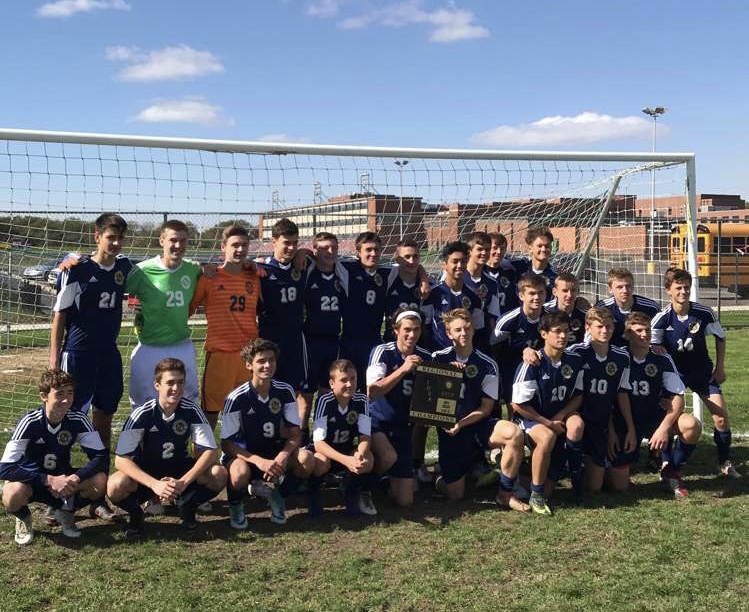 Oct. 24 spelled the end to the boys varsity soccer season as the 4-0 loss against Marmion Academy sent the team home. They went into the regional finals sporting a 7-0 win against Evergreen Park, giving them the confidence boost to take home a third consecutive conference victory against the Illinois Math and Science Academy Titans.
However, the glory was short lived as the 2-1 victory led the team to a semi-sectional loss against Marmion Academy in Glen Ellyn on Oct. 24. "We really put it all out there. In the end, Marmion just got the best of us," said senior captain Matthew Gasienica moments after the team's loss.
Led by coaches Rick Prangen and Mark Tomczak, the team prepared for over four months, including a summer league. Their 14-8 record was the best record in years.
"I'm really proud of everyone's hard work and determination," said Midfielder Andrius Alinkevicius, "Even though we lost semis [sectionals], I'm grateful that we got this far."
Despite the promising win streak and positive attitude from the team and coaches, they fell short from winning semi-sectionals. The end to the season left seniors with their final high school practice on Oct. 25, while Marmion Academy advances onto sectionals.