Mr. LHS makes a comeback
National Honor Society event raises over $2,000 for #EllieStrong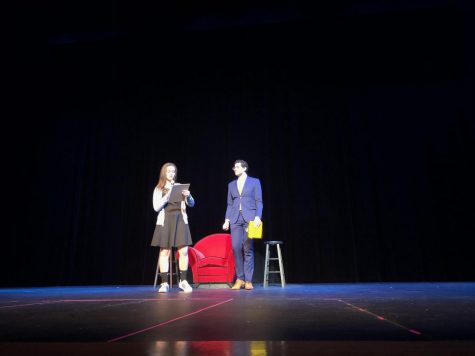 On Thursday, April 4 at 7 p.m. in the Performing Arts Center, seven male contestants competed in Mr. LHS which was sponsored by National Honor Society. The hosts for the event were Kyle Devitt and Grace Horky while the seven students competing were: senior Joe Tomecki, senior John Arundel, senior Ricky Moravecek, junior Jon Irace, junior Jake Roames, sophomore Ethan Regasa, and freshman Ryan Skwarek.
The cost of admission for the event was four dollars, but only three dollars if you brought in a canned good. Majority of the proceeds were donated to Team Compassion, an organization that supports Ellie Cuiching's fight, which amounted to $2,000. Each one of the contestants also had to raise funds for Ellie on their own, so collection jars were set up in the commons and each one of the escorts collected donations during the event. Skwarek was able to raise over $600 on his own.
"Our fundraising chairs — Kaylie Lingl and Jordyn Smith — have been eyeing the return of Mr. LHS since last spring. They were determined to make the event happen this year," said NHS sponsor Mr. Marek Dron. NHS started hosting planning meetings in Dron's room immediately after Winter Break. Members who attended planned how the night would be run and publicized.
The NHS Chapter first hosted Mr. LHS in 2011 until it was taken over by the Junior class for a couple years. It wasn't hosted by either club the past two years due to lack of interest. This marks NHS' second time hosting Mr. LHS with hope that the event attracted enough supporters for years to come.
"It was really cool seeing everyone come out to support Ellie and it was very fun to participate in," said Arundel.
The event consisted of four rounds; talent, outfit of choice, donations, and an interview judged by principal Mr. Eric Michaelson, english teacher Mrs. Sara Armbrecht, and social studies teacher Mr. Justin Weidler. Irace gave a "drag" performance for his talent, which included him wearing makeup, dressing up, and dancing to a routine. This act resulted in Irace being disqualified, due to a revealing costume choice. Another highlight of the night was Regasa playing the saxophone with some stylish sunglasses.
The final four contestants included Tomecki, escorted by Izzy Martinez, Moravecek, escorted by Maria Purpura, Skwarek, escorted by Molly Thonber, and Arundel, escorted by Kali Mardjetko. Following the final four reveal, each one of the contestants was interviewed by both Devitt and Horky. The winner was determined by the audience, who was able to cast their vote on MentiMeter. At the end of the night, Moravecek was named Mr. LHS.
"The night included lots of smiling and laughter, so I think all the hard work put in by all parties involved was rewarded" said Dron.