Taking a look into the spirit week judging process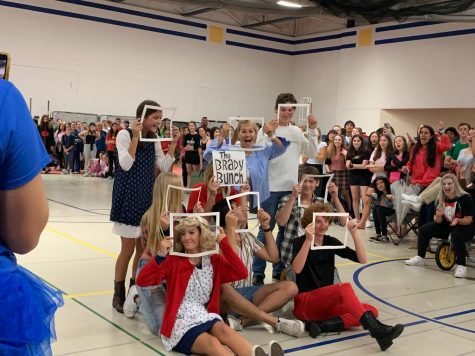 Spirit day skits are an integral part of homecoming week spirit days. Year after year, the field house serves as a stage for students to showcase their school pride, surprise judges, and generate laughs through an array of creative and outlandish skits. Skit participants then anxiously wait during first period for the announcements to reveal the winners. Behind the seemingly effortless process, lies an extensive judging system.
First, the student council's homecoming judges committee nominates staff members to judge specific days, as well as the banners. Mrs. Duensing has run this committee for five years now. 
Student council is also responsible for selecting the spirit day themes. The themes can not overlap for any grades, making it difficult to choose unique days for each year. Another challenge often faced when picking spirit days is that some themes prompt controversy and strong opinions. 
"For example, pioneer day. People were not happy when it was chosen, and then when we replaced it with cinema day, people told me they wished we had kept it," said Duensing.
One of the biggest factors almost all homecoming spirit day judges said they take into consideration are originality and creativity. But what makes for a winning skit? Besides creativity and originality, as for the other considered criteria, it varies from judge to judge. 
"I was really trying to check for crowd appeal, and how the crowd was responded to different skits. I wanted to reward the skits you could tell took a lot of time to coordinate and had a lot of practice put into them" said Heinz, counselor and whose first time judging homecoming spirit days this year was cinema day. 
Mr. Weidler, a 14 time homecoming judge, said "I would say the biggest thing would be creativity and effort. Going above and beyond and putting in time and effort. And, if it made me laugh." 
Some spirit days easily generate creative and interesting skits, while others require more thought. 
"I find that any day students can dress up as celebrities usually generate the best and most creative skits," said Duensing, "but one of my favorites was a skit for Olympics day. They dressed in togas and made a chariot, and came in like the old Olympics."
Students also face challenges regarding producing skits that will generate the most points for their respective classes.
Senior Kyle Devitt, an avid spirit week participant, said, "Personally, I find that days, such as cinema, or celebrity day, are fun, but harder because a lot of people come up with skits making it harder to be original or creative. Coming up with a creative skit is hard, but actually producing it with quality can be difficult."
Throughout the years, students have never failed to produce creative skits, leaving the judges in both shock and awe. For example, Mrs. Karigan, two time spirit week judge, said, "One year somebody dressed up as a huge cup of ramen."
The judges have a small time frame in between the end of the skits and the beginning of the first period to decide on how to rank the skits. Finally, Mrs. Kupchek, who co-runs the student council homecoming committee with Mrs. Duensing, delivers the top five skits, along with the class ranks and points to the main office so the morning announcements can reveal them to the student body.