Freshman pass their way to victory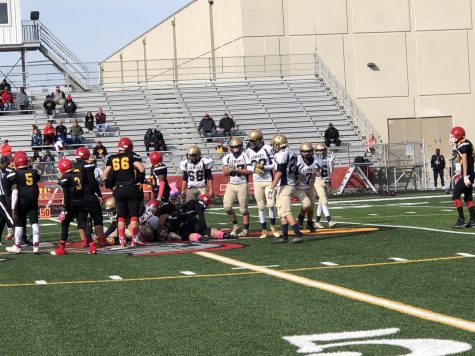 The freshman football team's record so far through the season is 5-1, the team's coaches are Frank Kovach, Nicholas Boesso, Joe Bailey, and Ryan Dylla.
In the team's most recent game on Saturday, October 6th, 2019 against Tinley Park, Lemont won 47-26. Freshman Payton Saloman threw for 168 yards with 4 TD and had a completion percentage of 53.3%. Freshman Ryan Koehler was the leading receiver with 3 receptions, 91 yards, and 2 TD. Also contributing was freshman Dylan Swanstrom who had 2 receptions for 48 yards with 2 TD. 
The team's next game is home against Hillcrest on Thursday, October 17.
Coach Ryan Dylla had a few words on the team, Dylla said "The season has been progressing nicely. It hasn't planned out like what we want it to but we are definitely raising the bar each practice physically and mentally." Dylla added, "The goal was to develop freshman athletes to acquire skills and knowledge of football that will help them progress and add value to the Lemont football program". Lastly, Dylla said, "Keep on developing the winning mindset during practice and remaking games with the ultimate goal of defeating Shepard, Hillcrest, and Bremen."
Freshman Logan Staubus also had a few words on the team. Dudney said "The season has been going pretty good so far, obviously our record reflects that. Our passing game has been really good so far, especially compared to some of the other teams that we are facing". Staubus added, "I think we need to work on blocking but they (linemen) have been pretty good but they still need to improve since we started."