How IHSA Summer Season Worked
On Jul. 29 2020, IHSA modified the 2020-2021 school sports calendar. There is usually only a fall, winter, and spring season. Now IHSA has made a summer season available.
The summer season was implemented for the purpose of pushing high risk sports back a bit due to COVID-19 concerns.
Girls tennis, boys and girls cross country, as well as girls swimming will continue to remain fall sports as they are low risk.
Athletic director John Young said, "The IHSA has tried to separate the various sports to allow for all sports to have a window of opportunity for participation. By offering the Spring schedule arrangement, the IHSA has opened a door for students to participate in as many sports as possible.
Earlier in the summer, the governor created categories for high risk sports, low risk sports, and medium risk sports.  Each category would determine how much of a risk the sport is in spreading the virus.
"High risk sports are more unlikely to take place in a normal season or time of year unless modifications are made to allow for control of the spread of COVID-19 through respiratory droplets. If event protocols and changes are put in place and the Governor's Office approves of these changes, then it might be possible for High Risk sports to move to the Medium Risk category" Young says.
Sports that are considered high risk include wrestling, football, hockey, competitive cheer as well as lacrosse. They are considered high risk due to the concerns of too much physical contact. 
The medium risk sports include basketball, soccer, and volleyball. Those sports don't pose as much of a threat as high risk sports, but still are more threatening than low risk sports.
Whether these metrics make sense is still up for debate by many people, but IDPH as well as IHSA has worked together in order to come up with these guidelines.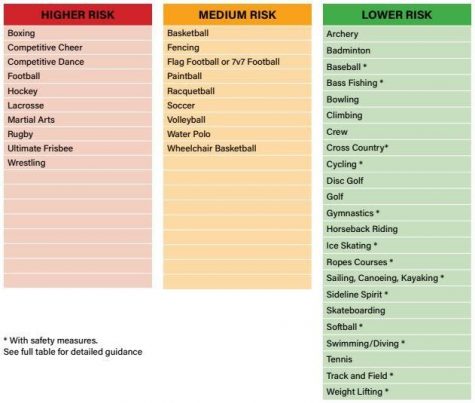 About the Writer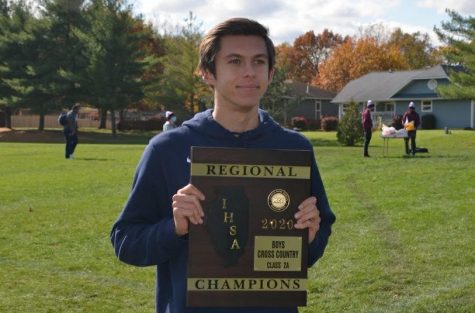 Nicholas Kania, Staff Writer
Nicholas Kania is a senior at Lemont High School. He is a 2nd year Tom-Tom member. Alongside the Tom-Tom, he is known for running track and cross country....