Tap House offers a special menu option to raise awareness for the #elliestrong forever foundation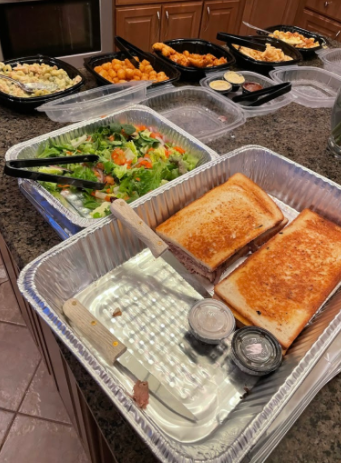 Tap House is a local business that is helping families through the pandemic with their meal deals and giving back to the community with their partnership with the #elliestrong forever foundation that works to help cancer patients and their families and promotes acts of kindness in the memory of Ellie Cuiching, 14, who passed away from a brain tumor.
The restaurant held two fundraisers on Feb. 6, one was a soda tasting where a package of four sodas was available (root beer, cream soda, grape soda, and orange dreamsicle) and in between the tastings, bingo was played and there was a raffle. This costs $15 and you could buy a raffle ticket or an #elliestrong cup for $5. 
The other was a beer tasting where the brewers of the six beers offered talked about the beers that were being tasted and there were raffles held. The cost of this was $25 with the same price for raffle tickets.
In addition to this, they gave ten percent of all profits from all of their meals ordered that day and they gave ten percent of all family meal deals ordered the week before to the #elliestrong forever foundation which is currently helping Ella Rozyk, a two-year-old with kidney cancer, and her family.
"Jeff and his team put a really delicious package together," said Kyle Wunder Cuiching on Facebook.
Tap House introduced a limited-time family meal deal for the event. The Lemontster consists of a foot-long grilled cheese sandwich, a foot-long prime rib and mozzarella sandwich, a chicken finger platter, a five-cheese mac and cheese, two bowls of either cream of chicken soup, beer cheese soup, chicken and rice soup, or beef and barley soup, a house salad, a large fries and tater tots, and their caramel donuts.
The grilled cheese sandwich was delicious with a perfect amount of toasting on the bread and a melty cheese. The prime rib sandwich is just as good, if not better. The prime rib is perfectly complemented by the cheese and the sandwich even better with the au jus that was provided as a dip.
The chicken strip platter was better than expected. It was not extremely greasy and actually had some flavor. The same was true for the mac and cheese which actually felt homemade. For those who are not picky eaters, the meal also comes with a basil and tomato mac and cheese. The appearance was a bit startling at first because this mac and cheese was not listed on the menu, but it had a lot of flavor.
Unexpectedly, the house salad was good since it all looked pretty fresh and had nice crisp lettuce. This is high praise coming from me since I am not partial to salads.
After all of this, the fries were a bit of a letdown since they did not have much flavor, but the tater-tots were much better.
The beer cheese soup and the chicken rice soup are the ones that I will be reviewing. The beer cheese soup was a bit heavy on the beer with a really strong alcohol taste that almost drowns out the cheese, but what else should I expect from a place that is known for their beer. The chicken rice soup was the reverse with no strong flavor, but it was nice after the punch of alcohol in the previous soup.
After eating all of this, I realized that this meal package definitely fed more than the four to six people it is advertised to feed. It could probably feed double the amount and it has enough variety for families who have picky eaters and adventurous palates. Even though I felt that some of the food was inferior to the rest of the meal, this could just be the case for my palate especially considering that my family enjoyed some of the items that I didn't care for. It is a good deal and a good meal for a great cause and I would recommend it.