Week one in the books
First week of school coming back from the Covid break
As summer vacation comes to an end, most schools started their year this past Monday, August 16. Due to Covid-19, Illinois has brought back the mask mandate while in class. Even with the mask mandate teachers are excited for the school year and to have kids back in class. 
Incoming freshmen had their first day the Friday before the other grades would come in. Everyone's first official day was Monday the 16; this day was an all eight day where students went to every class and had their lunch during B3 classes. On the first day of school, Principal Michaelsen hosted a school wide Google Meet for the teachers to present to their G1 classes. Michaelsen went over guidelines/expectations for the school year, and hopes to have a great year. The rest of the week was a normal week of school with Tuesday being a G day and Wednesday being a B day and on from there.
Senior Michael Mui spoke on the first week of school. Mui stated "I had a good first week back, we didn't do much the first week of school but it felt good to be back in person and see everyone who I haven't seen in a year and a half."
To help control the spread of Covid-19 around school, Principal Michaelsen decided to separate students while eating lunch. There are three spots around the school that everyone has been assigned to including the commons, Citgo, and PAC. Not only have students been separated in different areas, they eat in classroom desks. 
When entering the school, students are required to check in by using their phones to scan their ID card through skyward. While in the classroom teachers have arranged the desks so students would be at least three feet apart from each other. On Friday, staff and students were advised to wear blue and gold to support the school.
The week ended on Friday with the annual Blue vs Gold football game, where the football team plays a scrimmage game for the fans and to get ready for the season. This game is a chance for the starting offense to get some reps in against the starting defense before starting the season.
About the Writer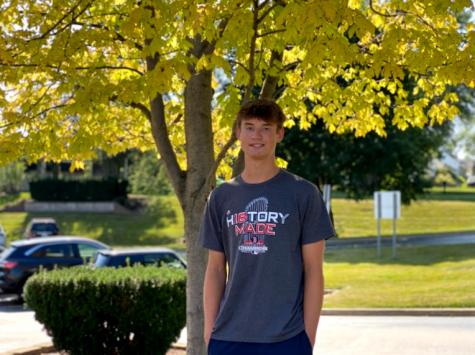 Jackson Crispin, Editor in Chief
Jackson Crispin is a senior and the Editor-in-Chief for the Tom-Tom. Jackson is in his fourth year writing for the Tom-Tom. Jackson has mainly been a sports...