2021 homecoming court winners were announced at Friday's assembly
Spirit week drew to a close last Friday with the blue and gold pep assembly, revealing that the senior class took home first in the annual competition. 
The assembly kicked off with a performance by the JV cheerleading team followed by the JV poms team, and afterwards the homecoming court nominees were brought to the front of the field. 
The top three freshmen nominees were Ali Nabulsi and Jordan Cryer, Lance DeLude and Claire Auw, Julius Dian and Lexi Reyna.  The winning pair wound up being Julius Dian and Lexi Reyna.
The sophomore nominees were Cael Whitchurch and Giuliana Fishella, Julian Medina and Alyssa DeMaio, Michael Amberg and Olivia Zargoski. Cael and Giuliana ended up winning and when asked how they felt about the outcome, Cael said, "[I] didn't think we'd win."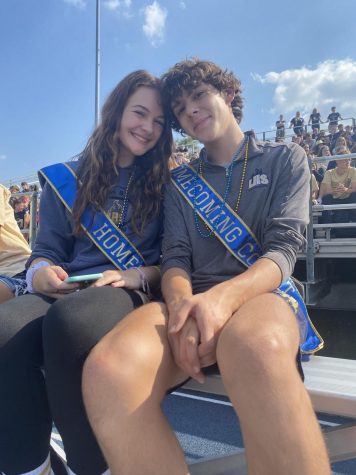 For the junior class their homecoming court included Emory Vivian and Suzie Knutte, Ryan Babinec and Frankie Rita, and Stone TeSelle and Grace Ulatowski. Before their results were announced Ryan said, "This has been the most fun week at school," before himself and Frankie Rita won.
The senior class nominees featured Selma Suleiman and Drazen Gierman, Rodrick Marzo and Nawal Khankan, Albert Kunickis and Jackie Wencl. Jackie and Albert were crowned homecoming king and queen and following their inauguration Jackie claimed , "Seniors win everything".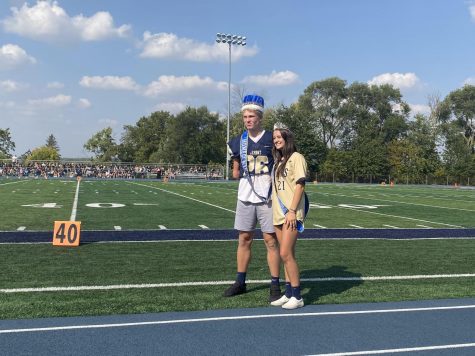 The banner announcements came afterward where we discovered that the seniors took first again, and this was followed by a performance from the varsity cheer and poms team. 
After the week's festivities ended Mrs. Kupcheck said that "This has been the best homecoming year."