Do Milky Ways deliver a big bang of flavor?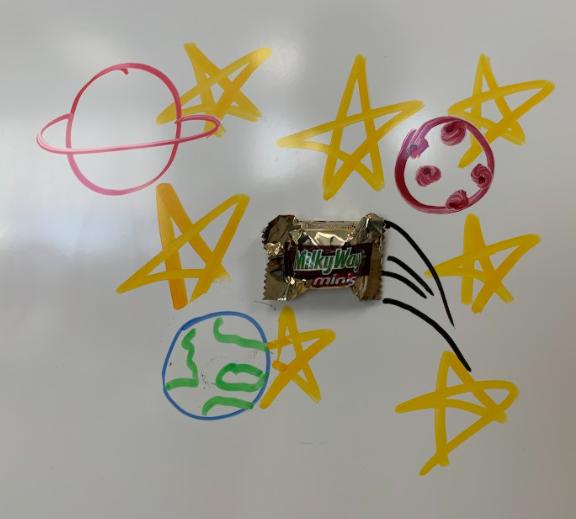 Every night, I watch the milky band of light in the sky present millions of stars, galaxies, and (potentially) aliens. Now, imagine trying to put that feeling into a dime-sized chocolate package. That is exactly what Milky Way minis did. 
At first glance, the reflective gold packaging reminds me of the stars that paint our setting: space. After ripping the beautiful packaging, I was delighted to see a cute pocket of chocolate that could easily disappear in one bite. With such a tiny specimen, I was unsure what to expect underneath. My main suspicion was a crunchy wafer with smooth caramel underneath, similar to Snickers. However, as I sunk my teeth into the milky outside, my hypothesis was incorrect. The whole way through was soft, with no wafer underneath. 
Needless to say, my first impression was unexpected. Because of my small bite, my taste buds did not pick an overpowering chocolate or caramel flavor, cancelling each other out. Additionally, I wished for a greater difference in texture, especially as the harder chocolate shell blended into the softer caramel. 
My second (and bigger) bite was a little more exciting. I was able to retain more flavor, finally tasting something. Usually, I am not a fan of caramel, but my second bite tasted like a chocolate and caramel Starbucks drink in candy form. It almost tasted like the feeling of being under a warm blanket on Christmas eve– perfect foreshadowing for the upcoming holiday season. 
From first glance to the last taste, Milky Way minis take you on an outer space adventure and back. If the goal was to put the milky way and all its vastness in a tiny candy form, then the goal was met. However, I think it's still missing the big bang of flavor that created the milky way in the first place.