The Forge's Zombie Laser Tag presents frightening fun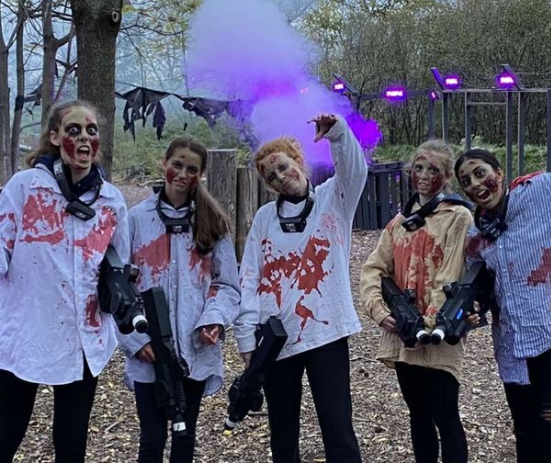 What would you do in a Zombie Apocalypse? At The Forge near the Lemont Quarries, the Zombies are back and ready for a full course meal of brains. For one month, guests had the opportunity to battle them in laser tag to save the arena, and their own lives. 
The Forge, a rope course adventure park, opened in July 2020. Since then, they have broadened their horizons from ziplines and climbing walls to laser tag and water sports. Usually, The Forge offers laser tag complete with 30 different game variants including Team Deathmatch and Juggernaut. For the month of October, The Forge offered "Zombie Laser Tag," a version where you fight against actual zombies.
"The Zombie Laser Tag concept at The Forge was a collaborative effort of multiple team members and agencies to create an authentic outdoor experience utilizing current activities in the park for holiday events," said Justin Doebert, the organizer for the event at The Forge. They started offering this experience last fall as well, and continued it this year due to high demand. 
The event was so popular that The Forge added more dates and times, and the feedback has been nothing but positive. "Guests have enjoyed the interactive nature of the activity and the special effects we have installed for the season," Doebert said.
In reality, the "zombies" were volunteers from the National Honors Society, who spent about 6 hours getting ready and playing laser tag. The "zombies" participated in up to 4 sessions a night, with each session having 3 games. The first game was a standard team against team, with the zombies free-roaming and offering double-points if they were hit. The second game followed a capture the flag style game between the two teams, while the zombie played the same role. Finally, the final game was infection, with the zombies attempting to tag everyone since once you got tagged – you became a zombie. 
"The Forge has greatly appreciated NHS's involvement in zombie laser tag both last year and this year," Doebert said. "The volunteers have been an excellent addition as help as zombies for the activity. 
The outdoor setup used a variety of special effects to make the event as spooky as possible, with zombies emerging from hiding spots, and startling guests. With sound effects and props corresponding to the different rounds, each game was an entirely new experience. This created a completely unique experience that people of all ages could enjoy. Due to the event's great success, it seems like the zombies will be back for a rematch next year!