What are Crumbl's imitation cookies?
Reviewing Crumbl's December 12th cookie flavors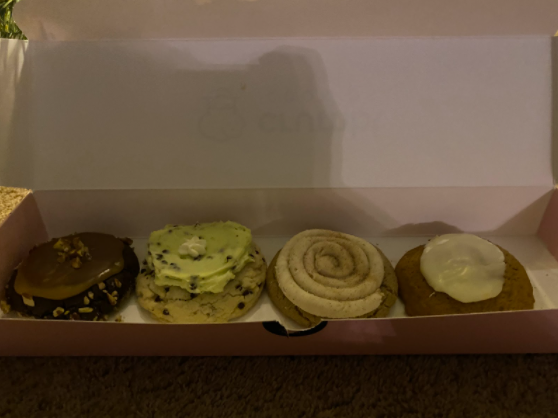 Crumbl cookie is a business that has begun to boom in the recent year, with stores having wait times that are over an hour! The store has a new menu every week consisting of six flavors, they come up with five eccentric flavors and then have the classic chocolate chip. 
My favorite flavor that I tried was the Mint Chip Ice Cream. My first thought when biting into the cookie was that it wasn't as minty as I expected it to be. The cookie was infused with chocolate chips and it even had some in the frosting. The cookie frosting was fluffy and light in a way. It tasted exactly like Mint Chocolate Chip Ice Cream. Personally I couldn't find much wrong with the cookie. I would definitely recommend this cookie to anyone, if it were to appear on crumbl's menu again. 
Churro was my second favorite cookie to taste. It was served warm which made the cookie that much better. The cookie tasted exactly like a Churro. My first thought I had was about how sweet the cookie was. The cookie was very sweet altogether, the frosting on the cookie was a little bit too sweet. Despite the sweetness, I still would recommend trying this cookie.
The third cookie I tasted was Turtle, it was made to replicate Turtle Chocolates. It had a strong caramel and chocolate flavor. They were truly able to capture what a Turtle tastes like, it tasted almost the same as a regular Turtle Chocolate. The carmel was definitely the best part about the cookie. Something about the cookie that wasn't the best was how strong the chocolate was, it felt like the chocolate taste was overpowering everything else on the cookie. Nonetheless, I would still recommend the cookie for any chocolate and caramel lover.
The fourth cookie I tried was Orange Peel. My first thought while tasting it was that it did not taste like Orange at all! It tasted similar to Carrot Cake. I really enjoyed the Cream Cheese frosting that topped the cookie, but it definitely lacked the Orange flavor. I did not enjoy this cookie as much as the other ones, but I still would recommend it to others. 
I definitely enjoyed the majority of these cookies. If any of these cookies pop up on crumbl's weekly menu you should give them a try.