5 tips to help you have a cheap fun trip to Chicago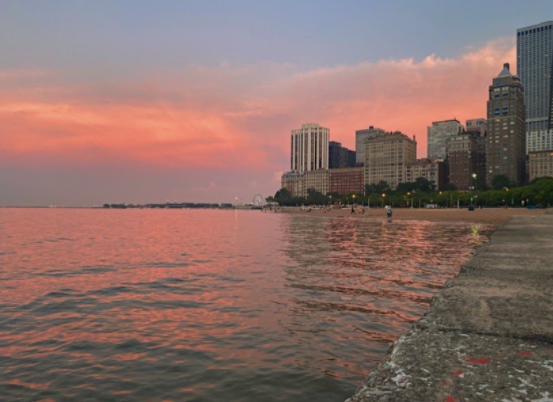 Living 30 minutes south of the 3rd largest city in America has plenty of perks, but one of the downfalls is that spending time in Chicago can often be a bit pricey. Many high schoolers relish the opportunity to be in the city and to help make your next trip more wallet friendly, I've composed some tips I've used to help keep anytime spent in the Windy City cost effective.
1. Take the train
One of the best 'hacks' to save money in the city is by trading a car ride for the train. This usually works a bit better in the summer when you can walk wherever you go (or ride a skateboard, as I often have), but if your destination is close to union station or you're afraid to drive downtown the train will be your best friend. By taking the train you can cut down on paying for gas and parking in the city, two costs that quickly add up. Train tickets typically cost around $10 to $15 round trip, and parking at the downers grove train station, where trains go to and from Chicago typically every hour, is free. 
2. Take the L
After arriving in the city, you may want to hit up a lot of places and if you haven't taken a car, that can be a lot of walking. Instead of paying too much for an uber, utilize the elevated train system and subways that run throughout the city instead. If you plan on using them multiple times you can purchase an all day pass which will let you use the CTA trains as much as you want all day for around five dollars! Be careful to pay attention to your stops so you know where to get off- by using google or apple maps you can check how far or close your stop is while still on the train to avoid getting lost or confused. 
3. Check for Illinois resident free days
Chicago has tons of awesome museums and activities that are usually pretty expensive on an average day- but most of these activities offer free days for any Illinois resident. It is required to reserve tickets beforehand, so be sure to plan your trip in advance by simply searching up "Chicago museum free days" and checking your options which range from the Shedd Aquarium to the Art Institute and everything in between. Make sure to check out the Museum of Contemporary art which is always free for those under 18. 
4. Check out more free stuff
Not all of the sites in the city require a fee, the Garfield conservatory park and Lincoln park zoo are both free year round. Both offer sights of nature and a unique experience that will make your trip a memory you'll cherish for life. If you haven't taken a car and still need to get around the city fast, try renting one of the bikes scattered throughout the city. Again, this works better when it's not winter. 
5. Visit art
Chicago has always been a hub for artists and creative types who have contributed a lot to the rich history and decor of the city. Plenty of the buildings downtown have murals covering their would be drab walls, and by looking up the best murals you can take yourself on a walking tour to get a glimpse of them, including the infamous Juice Wrld memorial mural located at 851 W Hubbard. Besides murals you can also visit sculptures including Cloudgate, Crown fountain, Calder's flamingo and more. And if that isn't enough you can also check out the Garden of the Phoenix at 6300 S Cornell avenue. 
If you can't already tell, Chicago has a lot to offer without turning your wallet inside out. So next time you're in the mood to get out, check out this list to help with ideas for how to get the most out of the Windy city.