Slap seen around the world
Debate whether Chris or Will was in the wrong.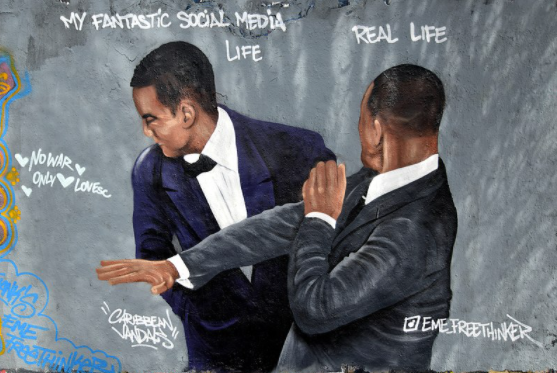 The world has had their fair share of award shows these past two weeks with the Academy Awards and Grammys taking place. If you were not able to sit down and watch, here is a recap of what happened during the Oscars 
The 94th Annual Academy awards were quite eventful with major movies such as "Dune," "King Richard," "Spider-man: No Way Home" and "The Power of the Dog" all being nominated. Regina Hall, Amy Schumeur and Wanda Sykes were the hosts for the Oscars and made skits throughout the show, which gave the show some comedic value. 
The most eventful moment of the night happened when Chris Rock came onstage to present the documentary feature award. Rock was cracking jokes to the crowd when he said, "Jada, I love you, G.I. Jane 2 , can't wait to see it." Will Smith then got up and slapped Chris Rock. Jada Pinkett Smith has openly talked about her struggle with alopecia. 
Recently fans have been debating whether Smith or Rock were in the wrong and the debate continues to this day. Some say it was wrong of Rock to joke about alopecia, other fans are saying Smith should have waited until the cameras were off and dealt with it. Other people are debating whether the slap was real or a stunt set up to get the Academy Awards Publicity.
Some of the Oscar winners after the incident made little comments about how he could have taken a different approach to the situation.  Smith later won the Best Actor award for his performance in "King Richard."  
In Smith's speech he said, "Art imitates life. I look like the crazy father, just like they said about Richard Williams, but love will make you do crazy things."  The Academy is now debating what Smiths' consequences will be for his outburst, there is also a possibility that the Award will be retracted. 
"Dune" , a movie starring Timothée Chalamet and Zendaya, was nominated for 10 Academy Awards and won 6 of those being the movie with the most wins of the night, yet despite those wins, they did not win best picture. 
At the end of the night best picture was announced and the movie "CODA" took the win. "CODA" also won Best Adapted Screenplay. 
The winner for Best Actress was Jessia Chastain, for her performance in "The Eyes of Tammy Faye." The Best Supporting actress was Ariana DeBose for "West Side Story." 
With such an eventful award show with so many great movies it'll be hard to top for next year.