The 2022 Oscars will be hosted by Regina Hall, Wanda Sykes, and Amy Schumer.
And the Oscar goes to…: A look at which nominees are worth watching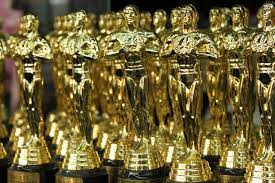 The Oscar nominees have been released and have revealed various surprising nominations and snubs for this season. Now the struggle for viewers around the world is to figure out which of the films they've actually seen, which is usually a decently low number. Unless you're an avid movie viewer such as myself, which means I get to help decide which nominees are actually worth watching and which ones just don't hit the mark. 
First off, there were 10 "Best Picture" nominations this year, including blockbusters such as "West Side Story" and "Dune," and lesser known films like "CODA" and "Belfast." Despite "West Side Story" essentially being a commercial failure, it racked up seven nominations. "The Power of the Dog" leads the pack with 12 nominations, followed closely by "Dune" with 10. "Don't Look Up" received a "Best Picture" nomination, following its mixed reviews and 56% Rotten Tomatoes score. 
"CODA" actor Troy Kotsur makes history as the first deaf actor to be nominated for an Oscar. Another historical event occurred with Anita Debose, nominated for "Best Supporting Actress" in "West Side Story" as the first time in history two actresses have been nominated for the same role. The only time this situation has happened previously is when Marlon Brando and Robert Deniro both won "Best Supporting Actor" for their shared role as Vito Corleone in "The Godfather" and "The Godfather Part II." 
Several films have been snubbed in these nominations as well. "The French Dispatch" is the first Wes Anderson film since "The Darjeeling Limited" (2007) to not be nominated for any awards at the Oscars. "The Green Knight" is also believed to have been snubbed, though I argue that it didn't deserve a nomination in the first place with its practically incomprehensible plot and messy editing. The biggest snub however, is Lady Gaga not receiving a nomination for her role as Patrizia Reggiani in "House of Gucci," as she was predicted to be nominated for "Best Actress." I also believe that Rita Moreno was snubbed a "Best Supporting Actress" nomination for her role as Doc in "West Side Story," which, had she been nominated, would be the first time an actress had won the same award twice for the same film. 
While there were many films nominated and snubbed, inevitably only one film is going to win each category, so which should you watch? While "The Power of the Dog" received 12 nominations, it is definitely something you should watch by yourself. Unfortunately, my family made this mistake on New Year's Eve and quite possibly gave my grandma a small heart attack. If you're in an artsy western mood, this is the film for you. Otherwise, I'd say this one is better off staying in the "Popular on Netflix" section of your TV. 
"Dune" received 10 nominations, making it the second most nominated movie this year. A remake of the 1984 David Lynch film, this adaptation recieved critical acclaim for its visual effects and outstanding score by Hans Zimmer.  I highly recommend this film for science fiction lovers of all ages. If the storyline and visuals don't capture your attention, the unique and distinctive music throughout the film will. 
"King Richard," for which Will Smith received a "Best Actor" nomination, was also another film I enjoyed. Not being a tennis fan myself, I learned a lot about the Williams' sisters through this film. A feel-good film about the upbringing of Serena and Venus Williams, "King Richard" essentially serves as a tribute to Richard Williams for all he did for his daughters. It is also a representation of how hard the Williams family worked to get where they are today.
Multiple lesser known films were also nominated for "Best Picture," including "CODA," which follows 17-year-old Ruby as the only hearing member of her deaf family, "Belfast," an auto-biographical film about an Irish working class family during the 1960s, and "Drive My Car," a Japanese film about a retired actor who is chauffeured by a young girl throughout a film festival he attends. While these films probably won't be a favorite for people watching them passively, I recommend them to any cinephiles or appreciators of fine art. 
Disney dominated the animated film nominations as per usual, with "Encanto," "Raya and the Last Dragon," and "Luca." Disney also received nominations in the "Best Visual Effects" category for "Spider-Man: No Way Home" and "Shang-Chi and the Legend of the Ten Rings." As a major Disney fan, I highly recommend all these films to viewers of all ages, as they are enjoyable for every age range. 
This year was the first time since 2019 the event will be fully in-person. The event was held at the Dolby Theater again, which was unfortunately unable to happen last year due to the pandemic. Only one film will win each category, but just because a film wins doesn't mean the other nominees aren't worth watching, so be sure to check out the good, and bad (if that's your thing), of this year's nominations.