Artemis I going, going, scrubbed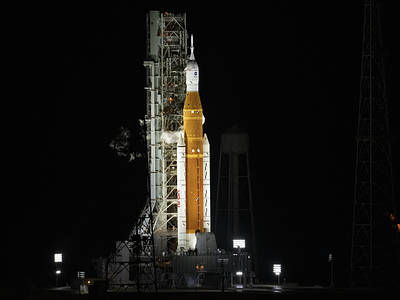 8:33 a.m. (ET) could not come soon enough for space lovers. As time ticked closer and closer to that set launch time, tune-ins to live streams were seen around the country; Americans stopping what they were doing to witness this long awaited liftoff. One of these people was Mrs. Tina Bialek, a physics teacher at Lemont High School. 
"I woke up and as I got ready I went on the website that has the live stream and kept it on the entire morning. It's funny because as I was getting ready, the mission was actually still a go and I was ecstatic," said Bialek. 
NASA's megarocket, the 322-foot-tall Space Launch System, has been called the "most powerful rocket in the world" and was all set to clear the launchpad from the Kennedy Space Center. This is until a liquid hydrogen line that is used to cool the rocket's core engines malfunctioned, upsetting many in attendance, including Vice President Kamala Harris. 
"From what I can gather, if they didn't maintain the pressure with the hydrogen leak, they wouldn't be able to get the engine to cool so that it would be able to boost off into space. As a physics teacher, the basic pressure and temperature relationship shows us that the rocket would not be able to get the full boost needed with this leak," said Bialek. 
Even though the mission was scrubbed, there is much hope for what the Artemis missions prove for the future of space exploration and how much mankind can truly understand our solar system and universe. 
"Ultimately, these missions will lead us to Mars, which would be historic in itself. Personally, I love it so much because I grew up after the Apollo mission but I was of the age of the Space Shuttle missions. Even though these missions were amazing to watch on TV, I was never able to physically watch any astronaut go beyond the International Space Station and that's the excitement for me is seeing people go beyond to the Moon and other parts of our solar system," said Bialek. 
These missions are in fact, historic, and even though it has taken over five years for the Artemis mission to be completed and put on the platform, humans landing back on the moon, over 50 years since Neil Armstrong and Buzz Aldrin shocked the world, is rather substantial. 
"I think people will be on the moon in the next five years because of everything these Artemis missions tell us. These missions potentially change not only NASA or the United States but our entire world in the ways that we see space and our galaxy," said Bialek. 
For people that disregard this mission for all of the taxpayer dollars spent on sending people back to the moon and to venture towards places in our galaxy such as Mars, Mrs. Bialek notes that we must keep exploring this system because of everything it has to offer. 
"I would like for everyone to realize that our Earth is part of a system. As much as we are bound to it, the way things behave and act are part of this larger picture. Understanding that big picture, makes us understand our world and solar system better and ultimately serves us to become a better mankind and how we treat our planet in the long run," said Bialek. 
In accordance with NASA and with everything going according to plan, as of Sept. 2, Artemis I is set to launch from the Kennedy Space Center at 2:17 pm (ET) on Saturday, Sept. 3.