Deadly monsoon season floods Pakistan.
As floods affect the country, the economy and environment are at risk.
During this year's monsoon season, Pakistan has experienced severe and deadly flooding. The Kabul river, which runs through the country, is at an all-time high level bringing floods to all districts in the country. With the previous April and March heat-waves and other natural disasters this year, climate-change is a suspected cause for these problems. 
The deadly floods have affected more than 733,000 homes and killed 1,100 people leaving another 1,600 people injured. The most severe damage has been seen in the coastal province of Sindh, with districts closest to the Indus river experiencing the most damage. The Indus river is fed by mountain tributaries and with heavy rainfall these smaller streams were overrun, contributing to flooding of the Indus River. 
The country saw a 28% increase in rainfall increasing from an average of 46mm per month to 1,288mm per month. Many environmental scientists have attributed this rainfall to human-induced climate change as other disasters affect countries around the world.
Israr Piracha, an immigrant from Pakistan, said, "My family in Pakistan has seen every effect of the flood; whether it's economic, environmental, or social. No matter where you are in the country these floods are touching everybody in some way."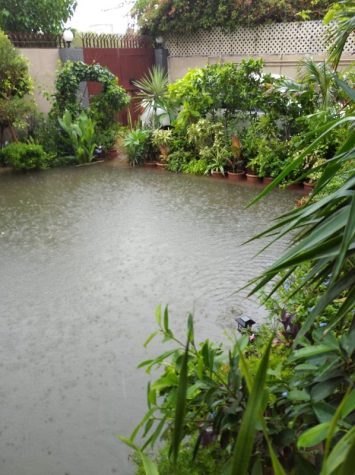 Crops and livestock have also seen large effects with more than 735,000 livestock being lost and 3.6 million acres of farmland being destroyed. Agriculture contributes to one-fifth of Pakistan's GDP so flooding has knocked out a major sector of the economy. 
"Tomato and onion prices alone have risen so much because they were such a major crop produced in Sindh," said Piracha, "It's only a matter of time before this starts to affect more of the world."
Pakistan has officially named these floods a national emergency, calling for aid from other countries. The World Food Programme is one organization already stepping up to help, but continued flooding and rainfall has made it extremely difficult for organizations to provide necessary aid to the country.