Making a splash with cast of Old Quarry's Musical Little Mermaid
On Dec. 8, 9 and 10 the Old Quarry stage lit up with a brand new set, light system and tech. All actors were decked out to the nines in full hair, makeup and costume. Let's just say they left nothing to spare by going all out with this production.
  "We try to do something bigger and better each year, and since this is our sixth production in total we decided it was time to step up our game," said director Micah Brandhandler.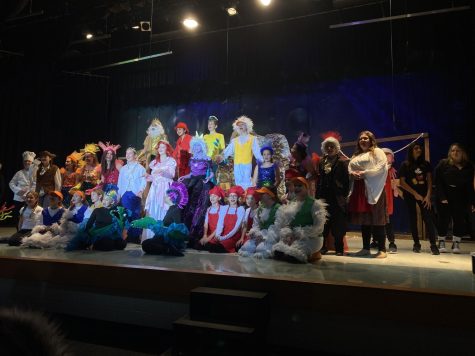 When looking back on previous productions done by the middle school, none quite compare. While there has always been an immense amount of talent, there was never quite as much scenery. The stage entirely transformed into the ocean and helped the audience perfectly picture what was happening, but this was also made possible by the actors. They most definitely came out of their shells for this show!
With seventh grader Julia Trench and eighth grader Ella Kincaid playing Ariel, no mouth was closed throughout the auditorium. Personally, I believe both the girls were absolutely incredible as they had great voices, and showed incredible acting throughout the show. 
Just a few more of the incredible actors who caught my eye include: eighth graders Lila O'Neill and Bella Vassios playing Ursula, eighth grader Nino Lecakis and sixth grader Stella Macari playing Scuttle, as well as eighth graders, Julizabeth Martinez and Karson Shoupe playing Sebastian. Everyone seemed almost built for their roles.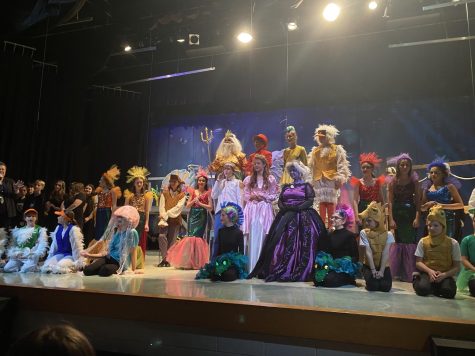 Auditions for the show happened way back in Aug. and they have been practicing ever since. Though not all of the cast believed that the show was coming together, in the last days of their tech week they claim something "clicked".
"I was definitely questioning how well the show was going to go a few weeks ago, but once the backdrop was set, and the mics turned on everything started coming together," said Trench.
As the show came to a close, many emotions were stirred up as director, Jenna Treanor, announced that this will be her last time leading the middle school's musical theater program.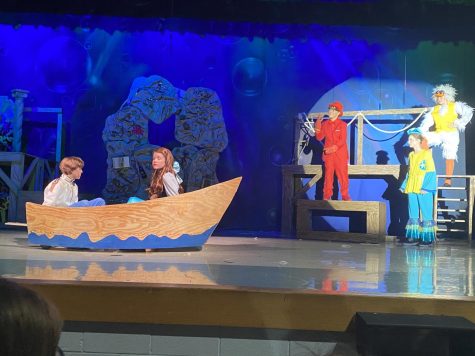 Treanor brought the arts back into the school six years ago, and helped spark many people's love for theater, as well as my own. Though she was one of the strongest influences on the school's arts, we still hope to see many more great things hit the stage in the future.