Acclaimed Lithuanian rower docks in Lemont
On May 5, the Lithuanian World Center on 127th street had a special visitor – Aurimas Valujavičius. This 28-year-old man recently completed a solo voyage across the Atlantic Ocean in a single rowing boat. Valujavičius began his trip from Spain on December 26, 2022, and after 121 days, the Lithuanian athlete reached the coast of Miami, Florida, on April 25, 2023.
Valujavičius is the third person to complete a solo journey across the Atlantic. His boat, the Lituanica, is named after an airplane Steponas Darius and Stanislovas Girėnas used to fly across the Atlantic Ocean in 1933. If Lituanica sounds familiar to you, it is also the name of a basketball club at the Lithuanian World Center (LWC) in Lemont. The LWC is the largest Lithuanian community and cultural building outside of the country itself.
Thousands of Lithuanian people from the Chicagoland area came to the Lithuanian World Center to meet Valujavičius last Friday. Police also were involved with parking duty, but there were very limited parking spots. People began parking in the surrounding neighborhoods, Covington Knolls and Ashbury Woods, and the plazas of Jewel Osco and Aldi.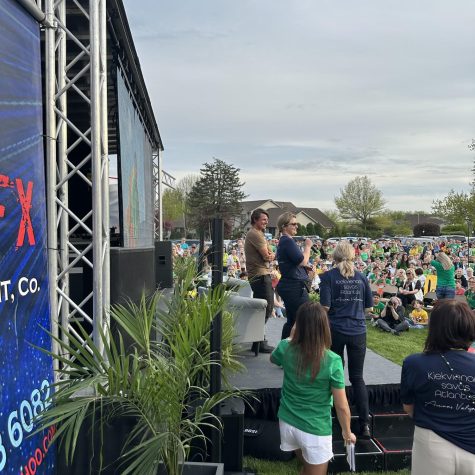 Valujavičius arrived at 5 p.m., greeted by a huge human chain of yellow, green and red. Junior Adriana Butkeviciute was a part of the chain. 
"It was very amazing. Never thought this would happen. It's nice to see the whole Lithuanian community come together," Butkeviciute said.
As a stage was set up outside, Valujavičius went to plant a tree in the LWC, in memory of his visit. After that, a woman interviewed Valujavičius. Valujavičius described his trip into detail, elaborating on his year-long preparation, the food he packed, his sponsors and his funny interactions with ferries and catamaran boats in the ocean. He told the crowd how he caught salmon and mahi-mahi fish, eviscerated them, ate them raw, and enjoyed it. He also dried some of it to snack on later. Valujavičius explained how he slept, specifying how he dealt with huge waves, storms, sunburn and how the salt water damaged his utilities. Valujavičius spent 10-14 hours a day rowing.
"This is my final day in America. Tomorrow, I'll be flying back to Vilnius. It was really, really fun to have this kind of accompaniment. There was a lot of great emotion – thank you so much for coming out here to spend your time with me," Valujavičius said. 
As of today, he is back in Lithuania.
Taking into account how difficult that trip was and how thousands of people have tried but didn't survive or struggled with severe sickness, Valujavičius's journey is truly impressive. It was wonderful to have Valujavičius here in Lemont.