The Science Department welcomes two new teachers
Mrs. Bialek: Of quarks she loves physics
With the introduction of the rigorous course of Advanced Placement Physics II, new teacher Mrs. Tina Bialek decided to take on the challenge of teaching this college-level class. Along with AP Physics II, Bialek also teaches freshman Biology and sophomore Physics.
With a schedule jam-packed with classes that satisfy her interests, it's clear that Bialek was excited to start her new position here at the high school. But just like starting a new job anywhere, she was faced with some typical obstacles.
"All of the challenges have been the typical of starting any new adventure, learning new systems, learning your environment, and most importantly, learning about your students" said Bialek.
Despite teaching a majority of physics-based classes, Bialek didn't initially like the subject, ironically enough. The traditional style in which physics was taught to her made learning the concepts boring and uninteresting–which is probably true for a lot of students now.
Luckily for her students, Bialek is able to take on a modern style of teaching that'll really help them understand how the world around them works.
Bialek said, "It wasn't until I started learning it [physics] myself based mostly on my curiosities for how things worked that I started loving it. I believe this is why I really wanted to teach it so much years ago, because I feel I am good at getting students to connect the content to their worlds [which is] something I wish I would have had in high school."
On the flip side, Bialek is probably a lot more easy-going than any physics teacher you've met. In fact, she's revealed that she loves music and dancing. Plus, she also loves going on walks and exploring nature in her free time.
Some advice Bialek would give students is, "Don't be afraid of failure and trying new things. Try as much as you can in high school to see if you may like to learn more about it in the future."
Mrs. Kessler: Chemistry class is where she's in her element
Another new, friendly face that the high school has welcomed is chemistry teacher Mrs. Lori Kessler. Kessler teaches Advanced Placement Chemistry, Honors Chemistry, and Integrated Science for students of various grade-levels. That's a lot of chemistry isn't it?
"My favorite class to teach is Honors Chemistry. I love introducing all the concepts for a students first real look at chemistry – also the students are awesome!" said Kessler.
On the other hand, starting off at a new school wasn't as stressful as it's made out to be because Kessler already lives in Lemont, so she's familiar with the small, tight-knit community.
Kessler said, "Lemont is a great community and I love all the opportunities that LHS has for students – it is big enough to have a lot to offer but with the small town feel."
Enough about teaching; Kessler is more than just your average chemistry teacher. Besides majoring in chemistry, she also minored in biology and photography. Talk about a lot of lab classes! Just like Bialek, Kessler also enjoys spending her free time outside and being out in nature. Some of her favorite activities include boating, camping, trail riding, and walking her dogs.
What really makes Kessler stand out is some of her hilarious past experiences. She revealed that, "While in high school and mostly because my dad is crazy, I bought a motorcycle. It really didn't fit my image of being in the top 1 percent of my class but I did have a lot of fun!"
Overall, some advice that she'd give to students is, "Try new things and make mistakes because you won't know where your limits are until you exceed them! Failure is just part of the learning process; it is not the end-point."
About the Writer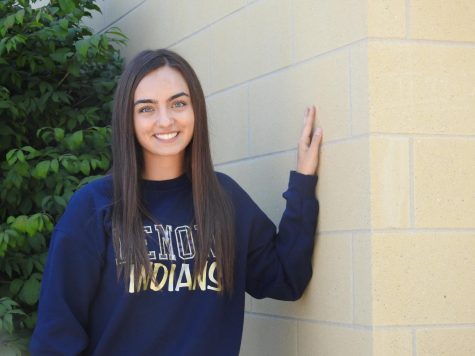 Natalie Palarz, Editor-in-chief
When she's not struggling to run three miles at a cross country race or working hard at a law office, Natalie Palarz can be found trying to get as involved...