Trends of 2019-Which will go away or stay?
As the decade of 2010 is ending, some trends have faded away, but most of them stayed.
The trends of 2019 were mostly technology-based, from addictive apps such as Tik Tok, Airpods, Airforces and the "Vsco" trend. Those trends were known as the most popular trends in 2019. 
Tik Tok is a trend that had continued to be popular in 2020. Tik Tok is an app that people record themselves making a dance move to the music, also you can follow people which the home can show the follower Tik Toks or a For you page. They can edit their videos, it's a worldwide trend which 500 million active users in 2019. "My favorite trend of 2019 was mostly Tik Tok" Lylli Palmer had said. 
AirPods continued to be a trend in 2020. The wireless headphones were sold to more than 55 million people in 2019. This device comes with a charging case and costs about $150 for a generation one. Cases were created to prevent AirPods from being lost or damaged, but also charges the Airpods in 15 mins. 
Another trend that emerged in 2019 was the "VSCO Girl." The meaning of being  "vsco" is to wear the 1980's style clothing such as mom jeans, owning a collection of scrunchies, having a hydro flask and having a VSCO account, which is a photo editing app. 80's clothing trend had faded away in 2020 since people are not wearing it anymore like in summer and spring. Palmer had also said "I didn't like when vsco was a trend". 
Air force ones also played a huge role in fashion. Air forces are Nike brand shoes that can be chosen in either white or black.
In the new decade, some trends stayed like Tik Tok and Air-pods and some sadly are fading like 80's clothing trend, and Air forces since there aren't many people wearing it around the school. There were new trends made in 2020, the society, us, are trying to encourage others to join in to get the item or app.
Leave a Comment
Your donation will support the student journalists of Lemont High School. Your contribution will allow us to purchase equipment and cover our annual website hosting costs.
About the Contributor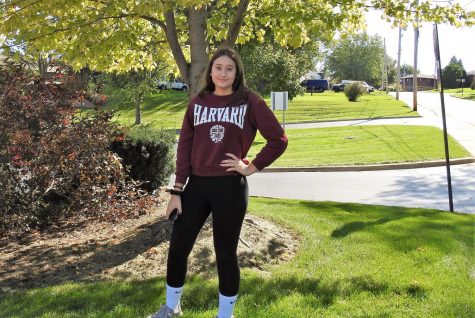 Michelle Gmiterek, Staff Writer
Michelle Gmiterek is a freshman and a first-year Tom-Tom staff member. She is a member of the preseason basketball and Model UN. Her friends describe her...