Pennyworth (TV): Boom or Bust?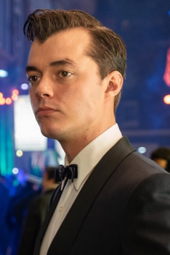 Did you watch 'Gotham' when it started back in 2014? If so, did you like it? Do you miss it? Even after the very final season ended last year? You can always go back and rewatch all 5 seasons on YouTube. 
'Gotham' was a show that acted as a prequel to the famous DC Batman comics and it was well received among DC fans and audiences alike. It scored a 7.8 on Imdb (Internet Movie Database), 77% on Rotten Tomatoes, and a 7.3/10 on TV.com. But would you believe me if I said that a prequel to the show has just started? That's right! It's called 'Pennyworth.' A prequel of a prequel, how rad! 
The series revolves around a young Alfred Pennyworth, before he became a butler and a surrogate father to Bruce Wayne. After leaving the army, he forms a security company of his own and also starts to work with the future father of Bruce Wayne & billionaire, Thomas Wayne in 1960's London. The series so far has only 10 episodes for its 1st season, with Season 2 currently in production. 
The cast consists of Jack Bannon as the titular character Alfred Pennyworth, Ben Aldridge as Thomas Wayne, Hainsley Lloyd Bennett as Deon "Bazza" Bashford, Ryan Fletcher as Wallace "Dave Boy" McDougal, Dorothy Atkinson as Mary Pennyworth, Ian Puleston-Davies as Arthur Pennyworth, Paloma Faith as Bet Sykes, Jason Flemyng as Lord James Harwood, Polly Walker as Peggy Sykes, and Emma Paetz as Martha Kane. 
One pet peeve I had with the prequel was, as intense as it is, it doesn't really add much to the DC universe and, by extension, the Batman series. That might have something to do with the fact that it just got started. I can see potential being unleashed later down the line. The same was previously said with Gotham when the first season was released. But as the series continued, it got better and better. We can only hope that Pennyworth follows suit. 
On a scale of 1 to 10, I'd give it a 7.8. Mostly because I don't know what route the show's going to take. If you're a fan of Gotham, or the Batman comics, you should watch this show. Who knows? Maybe you'll have a fun time as the show progresses.