Taylor Swift announces her first rerecordings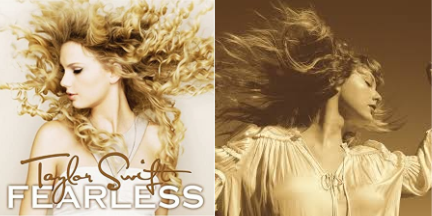 On Feb. 10, 2021, Taylor Swift dropped her re-recorded single "Love Story" that had fans all across the globe feeling nostalgia. Swift also announced that Fearless (Taylor's Version) will be released on April 9, with six new songs from the "vault" that didn't make the original version. Fearless is Taylor's second and most successful album, selling over 7 million copies. 
There was already suspicion that Swift would have an announcement on April 11. Swift is notorious for having her release dates add up to her lucky number, 13. With two (February) and 11 (the release date) adding up to 13, and with Valentines' Day around the corner, fans anticipated the re-recordings coming soon. 
Taylor does not own the masters to her first five albums, from her first album Taylor Swift to 1989. These recordings were owned by Big Machine Records, who did not allow her ownership of her own songs. After 2018, she signed a new deal with Universal Music Group, that allowed her ownership of her 7th album, Lover. Re-recording her old music would allow her full ownership. 
In November 2020, Swift's music got sold for a second time without her knowledge, and was only notified when she received a letter from a private equity company. Swift wrote on social media that she doesn't even have the chance to buy her own music back because she would need to sign a binding contract that would silence her. 
"Artists should own their own work for so many reasons, but the most screamingly obvious one is that the artist is the one who really *knows* that body of work," Taylor said in a statement when she released "Love Story (Taylor's Version)".
Swift started re-recording in November, when her contract allowed her to do so. Earlier that year, she also released Folklore and Evermore, which have both topped the charts. From two surprise albums to five rerecordings, Taylor has been working swiftly to get music out to excited fans.