Halloween Runs on Dunkin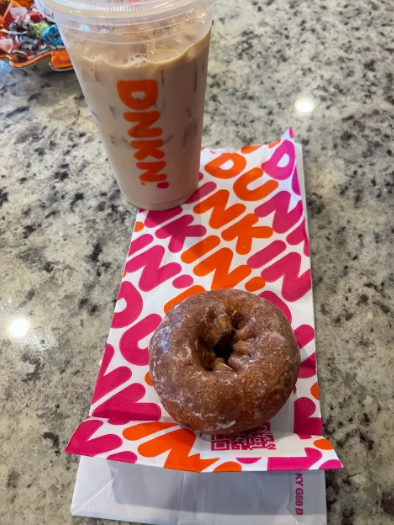 Throughout the spooky season of Halloween, everyone would receive a nice treat such as a pumpkin spice latte, with an evenly glazed pumpkin donut from Dunkin Donuts. These two flavors would blow your mind with how well they taste together. The donuts are all fresh tasting with each soft bit, the donut will fall apart in your mouth while you can wash it down with the pumpkin spiced latte, which has traditional autumn spice flavors that you can get iced or hot. 
Personally, I adore coffee which makes the pumpkin drinks even better. Along with the fact that the pumpkin donuts go along with the coffee perfectly for this season. When I first tried the splendid pumpkin latte, I didn't have high expectations, but little did I know I would get hooked more and more with every sip I took. 
Knowing how popular the seasonal drinks were, I thought for sure the quality of the drink wouldn't stay the same throughout the season. But, I can assure you that each drink is made with love and passion which keeps the drink tasting the very best each time. Aside from the main seasonal drink, there is also a pumpkin cream cold brew which is somewhat similar to the latte, but the coffee taste comes through more for this drink. So, if you are a coffee taste lover, I advise the pumpkin cream cold brew so you can enjoy both the coffee flavor and the splash of pumpkin. 
The names by itself could be a seller and could change your whole choice on what you wanted at that very moment. The second you saw the, "A new way to Pumpkin!  Try our pumpkin latte now." Would get you into the halloween spirit and then would put you in the fall mood to try their drinks! 
Although the seasonal drinks and donuts are a little pricey, I can promise you that it is worth every sip. And everytime you choose to get it you won't be let down with the quality of it along with the size of the donut. The donut itself compliments the pumpkin flavor overall very well including the gentle glazed layer to cover the donut all around. If you are a slow eater, it may make your fingers sticky after holding it for a while but then you can whip it off with the napkins that are included with your order.